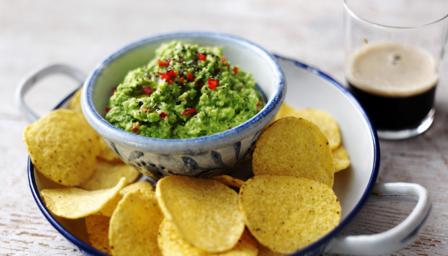 This easy dip is great for impromptu parties when you only have your store cupboard to rely on!
Ingredients
450g/1lb frozen petit pois or peas, defrosted and drained
½ red onion, finely chopped
1 garlic clove, finely chopped
1 small bunch fresh mint leaves
115g/4oz plain yoghurt
½ red chilli, seeds removed, finely chopped
1 tsp ground cumin
½ tsp ground coriander
1 lime, juice only
salt and freshly ground black pepper
2 tbsp extra virgin olive oil
1 large bag ready-made nachos
Preparation method
Place the peas, onion, garlic and mint leaves into a food processor and blend to a thick purée.

Add the yoghurt and blend again, leaving the mixture slightly lumpy.

Transfer the mixture to a bowl and stir in the chilli, cumin, coriander and lime juice and season, to taste, with salt and freshly ground black pepper.

Spoon into a serving bowl and drizzle with the olive oil. Serve with a bowl of nachos alongside for dipping.
Required techniques
Less than 30 mins

preparation time
No cooking required

cooking time
Serves 4-6