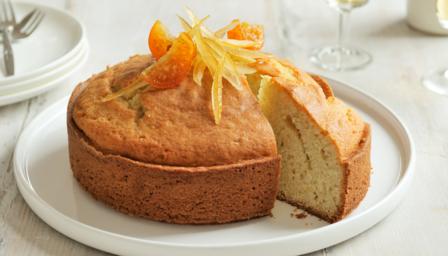 James Martin's simple steps for making Madeira cake, will have you whipping up a soft, buttery afternoon treat.
Ingredients
175g/6oz butter, at room temperature
175g/6oz caster sugar
3 free-range eggs
250g/9oz self-raising flour
2-3 tbsp milk
1 lemon, zest only
1-2 thin pieces of candied citron or lemon peel, to decorate
Preparation method
Pre-heat the oven to 180C/350F/Gas 4. Grease an 18cm/7in round cake tin, line the base with greaseproof paper and grease the paper.

Cream the butter and sugar together in a bowl until pale and fluffy. Beat in the eggs, one at a time, beating the mixture well between each one and adding a tablespoon of the flour with the last egg to prevent the mixture curdling.

Spoon the mixture into the prepared tin and lightly level the top. Bake on the middle shelf of the oven for 30-40 minutes, or until golden-brown on top and a skewer inserted into the centre comes out clean.

Remove from the oven and set aside to cool in the tin for 10 minutes, then turn it out on to a wire rack and leave to cool completely.

To serve, decorate the cake with the candied peel.
Required techniques
Less than 30 mins

preparation time
1 to 2 hours

cooking time
Makes 1 cake