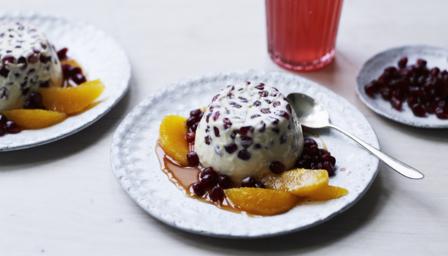 Try this fruity dessert in the winter months, when pomegranate is in season.
Ingredients
For the panna cotta

2 leaves gelatine
110ml/4fl oz pomegranate juice
75g/3oz caster sugar
1 tsp orange zest
500ml/18fl oz double cream
1 pomegranate, seeds only

For the pomegranate caramel

2 oranges, peeled and segmented
1 pomegranate, seeds only
4 tbsp caster sugar
4 tbsp pomegranate juice
Preparation method
For the panna cotta, soak the gelatine leaves in a bowl of cold water until softened and pliable, about 3-4 minutes.

Meanwhile, place the pomegranate juice into a small pan and gently heat, before removing from the heat.

Remove the gelatine from the water, squeezing out any excess liquid, and add the leaves to the hot pomegranate juice. Stir until dissolved.

Meanwhile, place the sugar, orange zest and 350ml/12fl oz of the cream into a saucepan and bring to a simmer, stirring to dissolve all the sugar.

Fold the whisked cream into the set-aside mixture. Pour the mixture through a sieve into a jug.

Arrange the pomegranate seeds on the base of four dariole moulds or ramekins. Place the moulds on a plate or baking sheet before pouring the mixture into each mould. Leave in the fridge for 1-2 hours, or until set.

For the pomegranate caramel, heat a frying pan until hot, add the orange segments and sear briefly. Remove the orange from the pan and set aside.

Add the pomegranate seeds, sugar and juice to the pan and cook for 2-3 minutes until thickened and the sugar has melted. Return the oranges to the pan and keep warm.

To serve, remove the moulds from the fridge and dip the base of each mould into a bowl of boiled water briefly to help loosen it.

Gently slide a knife around the edge of each panna cotta and turn out onto a plate. Spoon the pomegranate caramel around the side and serve at once.
Required techniques
Over 2 hours

preparation time
Less than 10 mins

cooking time
Serves 4