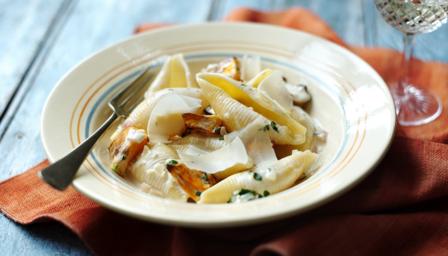 The combination of the pumpkin and rosemary work really well to make a truly scrumptious meal.
Ingredients
340g/12oz pasta such as conchiglie (large shells)
1 small pumpkin
2 sprigs rosemary
1 clove garlic
1 shallot
140ml/5fl oz carton double cream
1 tsp Dijon mustard
2 tsp chopped flatleaf parsley
30-55g/1-2oz butter
150ml/¼ pint white wine
½lemon, juice only
salt and freshly ground black pepper
grated parmesan (or similar vegetarian hard cheese), to serve
Preparation method
Preheat the oven 190C/375F/Gas 5.

Peel and de-seed the pumpkin. Dice into 2.5cm/1in and place onto an ovenproof sheet.

Chop the rosemary and sprinkle over the pumpkin. Season and drizzle with olive oil.

Place in the oven and cook for 45 minutes.

Cook the pasta in plenty of salted boiling water as per instructions.

Chop the garlic and shallot, gently pan-fry in the butter for about 1 minute.

Add the mustard and wine, bring to the boil. Simmer for 2-3 minutes.

Add the lemon juice, seasoning, cream and finally the parsley.

Drain off the pasta and remove the pumpkin from the oven. Fold into the pasta in a bowl.

Pour over the sauce and mix together. Check seasoning. Serve in a bowl with the parmesan cheese over the top.
Less than 30 mins

preparation time
30 mins to 1 hour

cooking time
Serves 4