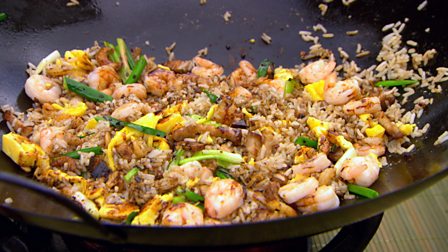 Preparation time
overnight
Cooking time
1 to 2 hours
Serves
Serves 4

Hairy Bikers recipes
From The Hairy Bikers' Asian Adventure
Ingredients
For the five-spice pork belly
1 tsp Sichuan peppercorns
1 star anise
500g/1lb 2oz pork belly, skin scored
1 tsp Chinese five-spice powder
2 garlic cloves, finely grated
thumb-sized piece fresh root ginger, peeled and finely grated
4 tbsp hoisin sauce
1 tbsp sesame oil
2 tbsp soy sauce (optional)
1 tsp grated palm sugar or caster sugar
½ tsp salt
For the egg-fried rice
100g/3½oz cooked five-spice belly pork, cut in to 1cm/½in cubes (see above)
120g/4oz rice
2 large free-range eggs
1 tsp sesame oil
flaked sea salt, to taste
300g/10½oz chilled cooked rice
groundnut oil, for frying
60g/2¼oz small dried shrimp, soaked in warm water
1 garlic clove, finely sliced
¾ tsp Sichuan peppercorns
1 tsp Chinese five-spice powder
60g/2¼oz cooked small peeled prawns, if using frozen defrost and drain well
3 spring onions, sliced at an angle (including green parts)
freshly ground white pepper
soy sauce, for finishing
Method
For the five-spice belly pork, crush the peppercorns and star anise in a pestle and mortar or a spice grinder, then tip them into a large plastic food bag. You need something that's big enough to hold the pork and has a top you can seal, such as a zip and seal plastic bag.

Add the remaining ingredients, including the pork, to the bag, then massage the mixture into the meat through the bag. Seal the top of the bag and leave the pork to marinate for 24 hours or longer in the fridge. The longer the meat is marinated the more flavour there will be.

When you're ready to cook the pork, preheat the oven to 160C/325F/Gas 3. Place the pork in a roasting tin – it should fit tightly – with the marinade and roast the pork for 1½-1¾ hours, or until tender and crisp.

Dice 100g/3½oz of the cooked belly pork into 1cm/½in cubes and put to one side. Any remaining five-spice pork can be eaten at your own leisure.

For the egg-fried rice, cook the rice according to the directions on the packet and leave to cool.

Whisk the eggs with the sesame oil and a good pinch of salt. Heat a non-stick frying pan or a wok with a drizzle of groundnut oil. When the oil is fairly hot, pour in the egg mixture. Do not stir and let the egg cook gently for a minute, or until the bottom starts to set. Then, using a rubber spatula, gently push one side of the egg mixture into the centre of the wok and tilt the wok to allow the still liquid egg to flow underneath and cook.

Slide the cooked omelette onto a plate and roll it up into a cigar shape. Cut it into 1cm/½in slices, then cover with foil and set it aside to keep warm while you prepare the rice.

Heat two tablespoons of groundnut oil in the pan. Drain the dried shrimp and add them to the pan with the diced belly pork and garlic, then heat through for about 45 seconds.

Grind the Sichuan peppercorns in a pestle and mortar and add them to the pan along with the Chinese five-spice powder. Add the rice and stir-fry for 4–5 minutes, tossing everything together frequently to blend all the flavours.

Add the peeled prawns and spring onions. Check the seasoning, adding some freshly ground white pepper and soy sauce, to taste. Carefully fold in the strips of omelette and serve at once.