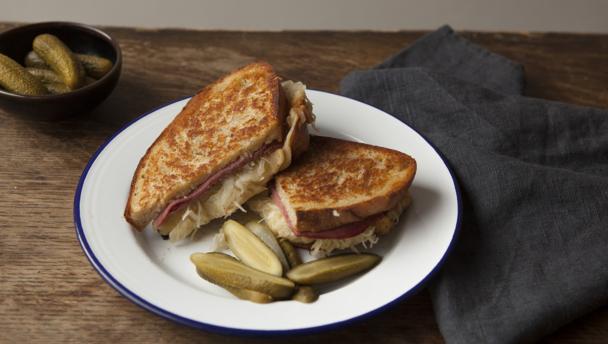 Preparation time
less than 30 mins
Cooking time
less than 10 mins
Serves
Makes 1 sandwich

Hairy Bikers recipes
From The Hairy Bikers' Comfort Food
Ingredients
For the Russian dressing
1 tbsp mayonnaise
1 tbsp tomato ketchup
1 tsp horseradish sauce
dash hot sauce
dash Worcestershire sauce
1 tsp finely chopped shallot
2 cornichon or ½ dill pickle, finely chopped
pinch hot paprika
For the sandwich
2 slices light rye bread or sourdough
butter, for spreading
2–3 slices salt beef
few slices Swiss cheese, such as emmental or gruyère
2–3 tbsp sauerkraut
salt and freshly ground black pepper
dill pickles, to serve
Method
For the Russian dressing, mix together all the ingredients and season with salt and pepper.

Butter both slices of bread. Put the salt beef on one slice, then top with the cheese and sauerkraut. Spread the Russian dressing over the other slice and place it on top of the sauerkraut.

Heat the sandwich in a sandwich maker or in a hot, dry frying pan. (If using a frying pan, butter both sides of the bread, press the sandwich down onto the pan with a spatula, and heat for 3–4 minutes on each side until the bread is well browned and the cheese has melted.) Serve with dill pickles.