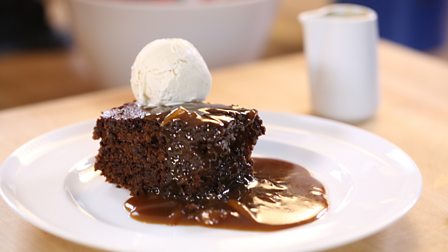 Preparation time
less than 30 mins
Cooking time
30 mins to 1 hour

Hairy Bikers recipes
From Hairy Bikers' Best of British
Ingredients
125g/4½oz butter, plus extra for greasing
125g/4½oz soft dark brown sugar
125g/4½oz black treacle
125g/4½oz golden syrup
275g/9¾oz self-raising flour
1 tsp bicarbonate of soda
4 tsp ground ginger
1 tsp ground allspice
4 stem ginger balls in syrup (roughly 75g/2½oz), drained and coarsely grated
1½ long red chillies, seeds removed, finely chopped
200ml/7fl oz semi-skimmed milk
2 large free-range eggs, beaten
For the sauce
3 stem ginger balls in syrup (roughly 55g/2oz), drained
200ml/7fl oz double cream
100g/3½fl oz dark brown soft sugar
75g/2½oz butter
To serve
well-chilled crème fraîche or vanilla ice cream
finely grated or pared lime zest
Method
Preheat the oven to 180C/350F/Gas 4. Butter a 2½ litre/4½ pint shallow ovenproof dish – a lasagne dish is ideal. Put the butter, sugar, treacle and syrup in a medium saucepan. Melt together over a low heat, stirring regularly until the sugar dissolves. Increase the heat a little and simmer gently for a minute, stirring. Remove from the heat and leave to cool for five minutes.

While the butter mixture is cooling, put the flour, bicarbonate of soda and spices in a large heatproof mixing bowl. Add the grated ginger and chilli and toss lightly together. Make a well in the centre.

Stir the milk gradually into the warm treacle mixture and then add the beaten eggs, stirring vigorously. Pour the treacle mixture slowly into the flour mixture, stirring constantly with a wooden spoon to form a thick batter. (If there are a few floury lumps, give a good stir with the metal whisk.)

Pour the batter into the prepared dish. Bake in the centre of the oven for 35-40 minutes, or until the cake is well risen and a skewer inserted into centre comes out clean.

While the sponge is cooking, make the toffee sauce. Put the ginger balls on a board and slice thinly. Pile the slices from each ball up and cut through them to make thin matchstick strips. Scrape off the board into a medium non-stick saucepan.

Add the cream, sugar and butter to the stem ginger matchsticks and place the pan over a low heat. Cook together, stirring until the sugar dissolves. Bring the sauce to a very gentle simmer and cook for 30 seconds more, stirring constantly.

Take the pudding out of the oven and pour the hot sauce over the top, spreading the ginger pieces over the surface with a spoon. Serve topped with well-chilled crème fraîche or scoops of ice cream and a sprinkling of finely grated lime zest.