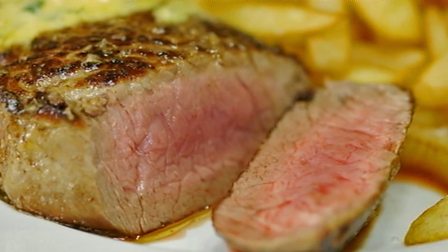 Whip up a sumptuous meal for one, with the finest steak, chips and a classic French sauce. Because you're worth it.
Ingredients
oil, for deep frying
3 tbsp tarragon vinegar
3 tbsp white wine
¼ tsp white peppercorns
½ small banana shallot, finely chopped
125g/4½oz butter
2 free-range egg yolks
sea salt and freshly ground black pepper
½ lemon, juice only
1 tbsp chopped tarragon leaves
1 tbsp olive oil
1 x 200g/7oz good-quality fillet steak
100g/3½oz frozen chips
Preparation method
Preheat the oven to 200C/400F/Gas 6.

Preheat a deep-fat fryer to 180C/350F. Alternatively fill a large heavy-based pan with oil and heat, using a cooking thermometer to check the temperature. (CAUTION: hot oil can be dangerous. Do not leave unattended.)

Put the vinegar, white wine, peppercorns and shallot into a small saucepan and bring to the boil. Simmer until the volume of liquid has reduced to about one tablespoon. Strain the liquid into a bowl and then set aside to cool.

Meanwhile, melt 100g/3½oz of the butter in a small saucepan set over a medium heat.

Put the egg yolks in a bowl set over a pan of simmering water and whisk until thickened and light in colour. Gradually add the melted butter, whisking constantly.

Season with salt and black pepper, add the cooled shallot reduction and the chopped tarragon leaves and mix well.

Turn off the heat and leave the bowl over the pan until ready to use.

Heat a frying pan until searing hot. Add the olive oil and steak and cook on one side for 2-3 minutes, before turning over and placing in the oven for 2-3 minutes.

While the steaks are in the oven, carefully lower the chips into the deep-fat fryer and cook for 3-4 minutes, or until golden-brown and cooked through.

Remove the steak from the oven and add the remaining butter to the pan. Spoon the melted butter over the steak repeatedly for at least 2-3 minutes while the steak rests – this will give a lovely shine and add to the flavour.

To serve, place the steak on a plate, pile the chips alongside and then finish with a dollop of béarnaise sauce.
Less than 30 mins

preparation time
30 mins to 1 hour

cooking time
Serves 1